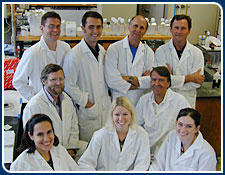 The Center for the Study of Macular Degeneration is currently supported by grants from the National Eye Institute, the Neuroscience Research Institute, the California Tobacco Related Disease Program, the UCSB Office of Research and donations from members of the community. The costs of performing biomedical research are exceedingly high and current sources of revenue are not sufficient to fully support the multifaceted, leading-edge research effort and long-term commitment envisioned for the Center. Private support by generous members of the local and world community, including national or international foundations and corporations, will continue to be crucial to the achievement of our goal of understanding the causes of Macular Degeneration and providing a foundation for new strategies for diagnosis and treatment.
You can help by providing a tax-deductible donation in any amount made payable to:
UC Regents / The Center for the Study of Macular Degeneration
Named funds may be established for endowed or current use purposes, based on campus guidelines. Annual contributions of $1,000 or more qualifies you for membership in the Chancellor's Council at the University of California, Santa Barbara. UCSB is an internationally recognized center for teaching and research, known for its interdisciplinary programs and innovative research. It is consistently ranked among the top American universities for the impact of its research programs in both the sciences and humanities. Your gifts to the Center for the Study of Macular Degeneration will help maintain UCSB's pursuit of research excellence in the years to come.
For further information or to make a donation, please contact:
The Center for the Study of Macular Degeneration
Neuroscience Research Institute
University of California Santa Barbara
Santa Barbara, CA 93106-5060
Phone: (805) 893-4621
E-Mail: csmd-info@lifesci.ucsb.edu